How do I book a Food Walk?
You can book a Food Walk here. Select your preferred date, and in just a few steps you can book your Food Walk.
Do I have to book the Food Walk in advance?
The Food Walk must be booked in advance so that I can make reservations in the restaurants and bars in good time.
How can I pay for the Food Walk? Can I pay cash?
You can pay with credit card, Paypal or instant transfer. Unfortunately, cash payment is not possible, unless there are places available at short notice, then please send me an e-mail to maria@foodwalkvienna.at
Can I cancel my booking?
Cancellations made at least 14 days prior to the booked date will be refunded with a 5% transaction fee.
From day 13th on only 50% of the amount can be refunded.
Cancellations have to be sent by email to maria@foodwalkvienna.at. Cancellations made less than six days prior to the booked date cannot be refunded or rebooked.
How many people can take part in a Food Walk?
I usually don't take more than eight people on a Food Walk. This allows enough space for your individual needs. If you are a group of up to 10 people, please send me an email to maria@foodwalkvienna.at and I will arrange a special Food Walk for you.
Please note that at least four persons must be registered for an appointment. If less than four tickets are sold for an appointment, the Food Walk cannot take place and you will get your money back. I will inform you at least seven days prior to your booked date.
How many dishes will we eat during the Food Walk? Will I be hungry afterwards?
Surely not! We will taste six to eight different dishes and five drinks, the Food Walk is more than a lunch. You'll be full after the tour, so come hungry!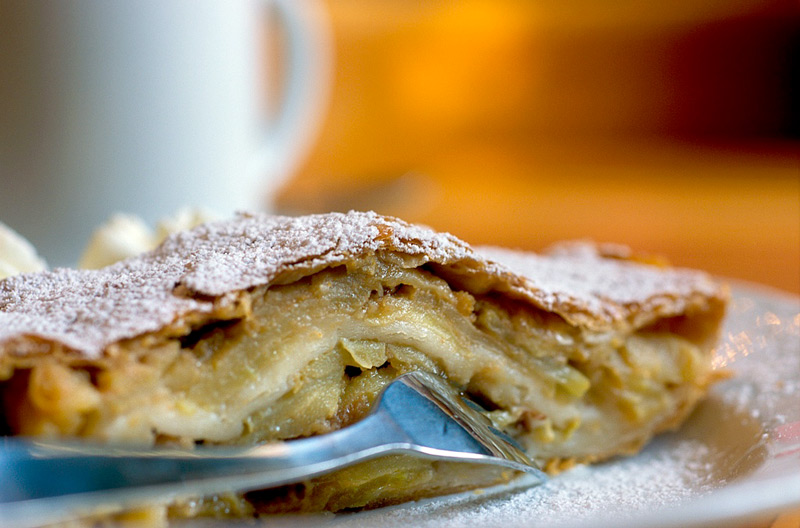 Can I take part in the Food Walk if I am a Vegetarian or suffer from allergies and food intolerances?
Yes, of course! The Viennese cuisine knows many vegetarian delicacies and we will find something at every stop that you can enjoy. The same applies to food intolerances or allergies. Please let me know already at the time of booking so that I can make the necessary arrangements.
Unfortunately, I can't offer a vegan option, the Viennese cuisine with its focus on meat and pastries doesn't offer that.
What if I don't drink alcohol?
Of course, all the places we visit offer delicious soft drinks. The price for the Food Walk remains the same in this case, because they hardly differ in price from wine or beer.
For how long do the Food Walks last ?
A Food Walk lasts about 4,5 hours.
Does the Food Walk also take place in the rain?
The Food Walks take place under all weather conditions, even in rain and snow we will spend a lot of time in warm and dry places!
Is there a dress code for the Food Walk?
Just come the way you feel comfortable! Please keep in mind that we will take a quick look inside one or the other church, where shorts and bare shoulders are not appreciated. And please pay attention to comfortable shoes, we will cover a good distance on our Food Walk through the 1st district.
When is the best time for a Food Walk?
If possible, take part at the beginning of your stay in Vienna. You will get to know everything worth knowing about the history and architecture of Vienna and Viennese cuisine in an entertaining way, as well as many insider tips for your further stay in Vienna!
Does the Food Walk replace a city tour?
Yes, because as a state-certified tourist guide I combine the culinary tradition of Vienna with the history and culture of the city. The Food Walk will provide you with helpful information for your individual visit to Vienna.
Do you offer cooking classes for Viennese cuisine?
I love to cook, but I do not offer cooking courses. I can, however, organize one for you!
Can I book a private Food Walk? With a different culinary focus or at a different time?
I will be happy to meet your wishes and offer individual tours for groups of four or more. If you want to taste something very special, such as the sophisticated New Viennese Cuisine or the very special innards cuisine, I can arrange this for you. Or if you prefer to start on a different day or at a different time, please write your requests to maria@foodwalkvienna.at. I will try to make it possible.
Do you provide the Food Walk in languages other than German and English?
Unfortunately, not. However, I can usually organise an interpreter at your expense, so the Food Walk will last about an hour longer.
Is the Food Walk suitable for wheelchairs?
Vienna's inner city is the oldest part of Vienna, the streets are often paved with cobblestones and can be very narrow. Some of the places we visit are only accessible by steps. Therefore, the Food Walk is not very suitable for wheelchair users.
Can children take part in the Food Walk?
Children over 8 years of age can, of course, attend, but experience shows that they usually don't like the tasted food very much – with the only exception of the Wiener Schnitzel! And they might also be bored. But if your children like trying new foods and are also interested in the history of the city, I look forward to seeing them! For younger children the Food Walk is unfortunately not very suitable.
Why should I choose your Food Walk?
As a historian and gourmet, I combine culinary delights with the culture and history of Vienna on Food Walks. In contrast to other providers, you will not only taste the wonderful dishes of Viennese cuisine, you will also learn all the important and strange things about Vienna in an entertaining way. And, I am, of course, also a state-certified tourist guide. In addition, we take enough time to enjoy the tastings. We sit around a table at most of the stops, and while you try the dishes, I'll tell you where the food comes from, why its important and characteristic for Vienna and share any related "stories" there are to tell.